By 33rd Degree Freemason, Manly P. Hall - "The School of Gnosticism was divided into two major parts, commonly called the Syrian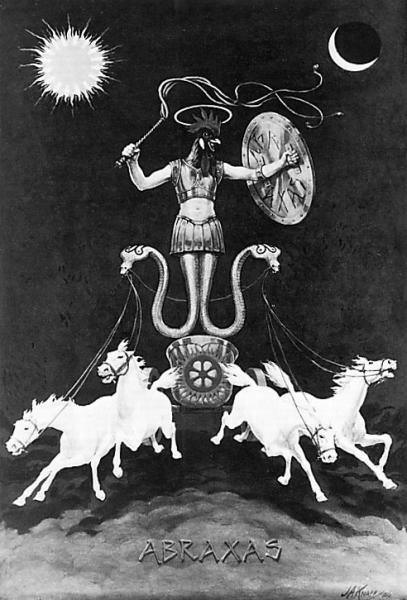 Cult and the Alexandrian Cult. These schools agreed in essentials, but the latter division was more inclined to be pantheistic, while the former was dualistic.
While the Syrian cult was largely Simonian, the Alexandrian School was the outgrowth of the philosophical deductions of a clever Egyptian Christian, Basilides by name, who claimed to have received his instructions from the Apostle Matthew. Like Simon Magus, he was an emanationist, with Neo-Platonic inclinations.
In fact, the entire Gnostic Mystery is based upon the hypothesis of emanations as being the logical connection between the irreconcilable opposites Absolute Spirit and Absolute Substance, which the Gnostics believed to have been coexistent in Eternity.
Some assert that Basilides was the true founder of Gnosticism, but there is much evidence to the effect that Simon Magus laid down its fundamental principles in the preceding century.
The Alexandrian Basilides inculcated Egyptian Hermeticism, Oriental occultism, Chaldean astrology, and Persian philosophy in his followers, and in his doctrines sought to unite the schools of early Christianity with the ancient pagan Mysteries. To him is attributed the formulation of that peculiar concept of the Deity which carries the name of Abraxas.
In discussing the original meaning of this word, Godfrey Higgins, in his Celtic Druids, has demonstrated that the numerological powers of the letters forming the word Abraxas when added together result in the sum of 365. The same author also notes that the name Mithras when treated in a similar manner has the same numerical value.
Basilides caught that the powers of the universe were divided into 365 Æons, or spiritual cycles, and that the sum of all these together was the Supreme Father, and to Him he gave the Qabbalistical appellation Abraxas, as being symbolical, numerologically, of His divine powers, attributes, and emanations.
Abraxas is usually symbolized as a composite creature, with the body of a human being and the head of a rooster, and with each of his legs ending in a serpent. C. W. King, in his Gnostics and Their Remains, gives the following concise description of the Gnostic philosophy of Basilides, quoting from the writings of the early Christian bishop and martyr, St. Irenæus:
"He asserted that God, the uncreated, eternal Father, had first brought forth Nous, or Mind; this the Logos, Word; this again Phronesis, Intelligence; from Phronesis sprung Sophia, Wisdom, and Dynamis, Strength."
By Manly P. Hall - The Secret Teachings of All: Chapter "The Ancient Mysteries and Secret Societies"