And so it begins. The "legal battle" for religious control of a nation whose motto is "In God, We Trust" has officially started.
A war of faiths in which many God-loving people feel this nation has gone to hell in a handbasket causing them to question "just which God do we Americans Trust?"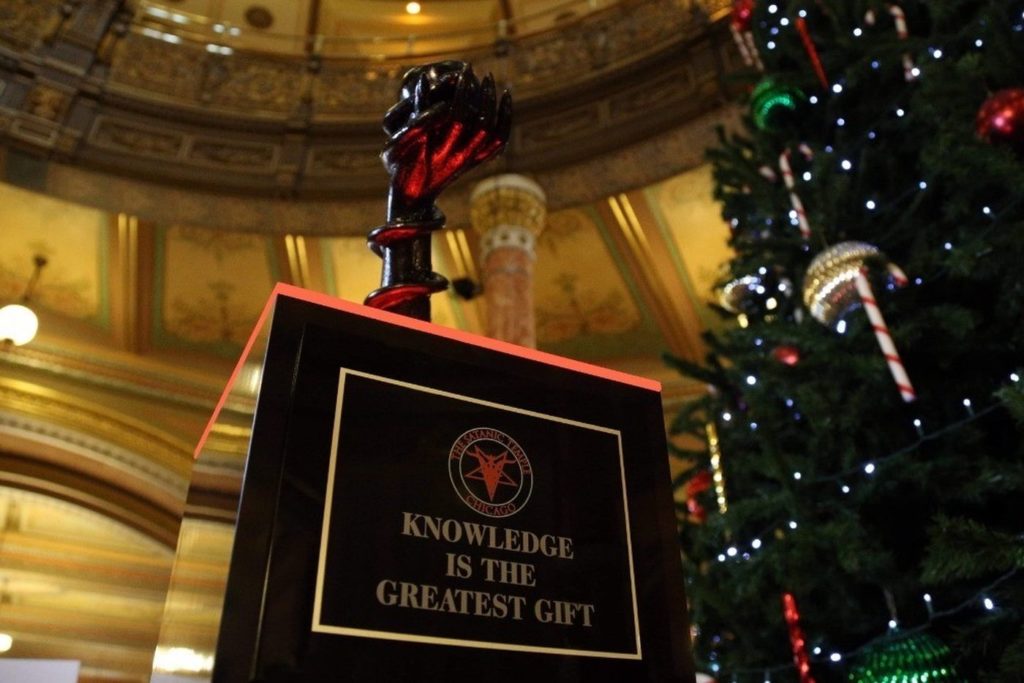 In the corner for the G-d Satan, we have the loud, proud, and the politically active organization known as The Satanic Temple who just won a lawsuit against the state of Illinois which allowed them to erect a 4 and a half-foot tall statue in the state's capital building.
The statue says, "Knowledge is the Greatest Gift" and depicts the forearm of a young woman holding an apple which is entwined by a serpent representing the devil.
The statue seems to be pissing off a lot of conservative religious people.
This is nothing new for The Satanic Temple LLC who has been trolling Christians and Jews ever since it was formed back in 2012 by Douglas Misicko who goes by the pseudo name – Lucien Greaves.
A very public and even political campaign that this particular group of Satanists seems to be embroiled in just about every month since they began and why Misicko says that he has received many death threats, and deliberately does not use his legal name, to avoid threats to his family.
However, his name can be easily found on Wikipedia and he is now somewhat of a self-made Satanic media star who has been in just about every news publication in the country.
Misicko's current media publicity stunt and assault on the religious right during their holiest months of the year for Christians and Jews and it looks like they are not going to back down without a fight. In fact, The Satanic Temple may have just officially shaken the religious hornet's nest of this nation's conservatives who may have had enough of their trolling.
After the statue was erected, thousands of upset people had bombarded their Illinois state representatives with calls and emails complaining that this statue was a direct attack on their faith and it must come down.
Just this week State Rep. Terri Bryant introduced House Resolution 1355 in the Illinois House condemning the decision by the Illinois Secretary of State to allow The Satanic Temple-Chicago to place a statue in the Statehouse rotunda along with displays that celebrate Christmas and Hanukkah.
Bryant had told the media, "If the Satanists are protected by the First Amendment and are allowed to place that statue in our Capitol during this holiday season, then I am certainly within my rights both as an American and as a state representative to say that Satan or his worshipers are not welcome in the Illinois Capitol."
However, just a day later, Bryant had issued a retraction saying that she didn't mean to say that Satanists were not welcome at the Capital. Bryant had said, "That is not right and not what my intentions are."
State Rep. Dave Severin, a Republican from Benton, co-sponsored the new resolution with Bryant had said in a press release, "I believe the decision to allow a Satan worship sculpture to be placed alongside emblems of the faiths of the Jewish people and Christians is a grave mistake and sends the wrong message during this time of reflection and celebration."
On December 7, Illinois State Senator Paul Schimpf shared a letter on his Facebook page that he said he sent to Secretary of State Jesse White asking him to remove the statue.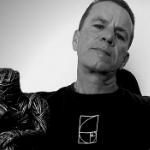 Moe is the founder of GnosticWarrior.com. He is a father, husband, author, martial arts black belt, and an expert in Gnosticism, the occult, and esotericism.