Podcast: Play in new window | Download (Duration: 1:14:30 — 68.2MB) | Embed
Subscribe: Apple Podcasts | Google Podcasts | Spotify | Stitcher | Email | RSS | Subscribe to the
"Take it not amiss, that the alchemy I teach yields neither gold nor silver; but look upon it as the key which opens the arcana of medicine to you." – Paracelsus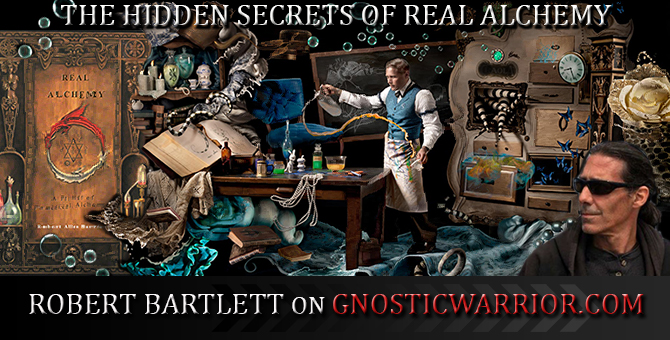 In this episode of the Gnostic Warrior, I interview author and modern master alchemist, Robert Allen Bartlett. Robert is the author of "The Way of the Crucible", and "Real Alchemy: A Primer of Practical Alchemy."
Robert started his alchemical research at age 12. As he grew older, he obtained his B.S. Degree in chemistry and later went to work for the Paralab, a commercial offshoot of Paracelsus College; as the Chief Chemist. Alchemy has been a lifelong passion for Robert as he uses ground-breaking modern scientific technology while staying true to the ancient art. He is dedicated to creating and preserving the superior healing products that are produced by ancient methods. Robert would like to inspire other people around the world to embark on their own alchemical journeys.
This interview was conducted by Moe on September 27, 2014 from San Diego County, California, with Robert in the state of Washington.
Robert Bartlett's Website and book: Spagyrcus.com
Real Alchemy draws on both modern scientific technology and ancient methods. A laboratory scientist and chemist, Robert Allen Bartlett provides an overview of the history of alchemy, as well as an exploration of the theories behind the practice. Clean, clear, simple, and easy to read, Real Alchemy provides excellent directions regarding the production of plant products and transitions the reader-student into the basics of mineral work–what some consider the true domain of alchemy. New students to practical laboratory alchemy will enjoy reading Real Alchemy and hopefully find the encouragement needed . Bartlett also explains what the ancients really meant when they used the term "Philosopher's Stone" and describes several very real and practical methods for its achievement.