In the year of our Lord 156, Marcus Antoninus Verus, the fourteenth from Augustus, was made emperor, together with his brother, Aurelius Commodus. [Editor's note: Marcus Antoninus Verus, commonly called Marcus Aurelius, succeeded in 161 A.D. His colleague in the empire was his adopted brother, Lucius Verus, whose full adoptive name was Lucius Aurelius Antoninus Verus Commodus. He died in 169. Eleutherus became Pope between 171 and 177. Bede's chronology is therefore wrong.] In their time, whilst the holy Eleutherus presided over the Roman Church, Lucius, king of Britain, sent a letter to him, entreating that by a mandate from him he might be made a Christian. He soon obtained his pious request, and the Britons preserved the faith, which they had received, uncorrupted and entire, in peace and tranquillity until the time of the Emperor Diocletian.
---
Next: How the Emperor Severus divided from the rest by a rampart that part of Britain which had been recovered.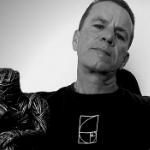 Moe is the founder of GnosticWarrior.com. He is a father, husband, author, martial arts black belt, and an expert in Gnosticism, the occult, and esotericism.