If you don't think that Freemasons are big players in the way the world is ran as we know it, then you are simply ignorant to the
history of this ancient fraternity. Some of the most powerful and influential people in the world have been and are Freemasons.
We can also safely say that the United States is a Masonic republic.
Many of the Founding Fathers of the United States of America were Freemasons. Men like Benjamin Franklin who became a grand master in 1734 and edited and published the first Masonic book in America that same year. The first President, George Washington was a Freemason who was initiated into the group in 1752 in Virginia.
Other important Freemasons in the forming of America were people like John Hancock, Paul Revere, Marquis de Lafayette, Robert R. Livingstone, Elbridge Gerry, Josiah Bartlett, and George Clinton.
The first Director of the Federal Bureau of Investigation (FBI) of the United States, J Edgar Hoover was a Freemason. US Congressmen Henry Clay, Nelson Aldrich, and William Jennings Bryan were members. More recently, Senators Birch Bayh, Lloyd Bentsen, Strom Thurmond, Jesse Helms, and Sam Ervin were Masons. So were the father and grandfather of Sen. John McCain. Former senators Bob Dole, Trent Lott, Conrad Burns, and Sam Nunn are Masons, as are Sen. Chuck Schumer and Rep. Charles Rangel. Famous Masonic governors include DeWitt Clinton, Thomas Dewey, George Wallace, George Ryan, Ed Rendell, and ex-New York Mayor, David Paterson.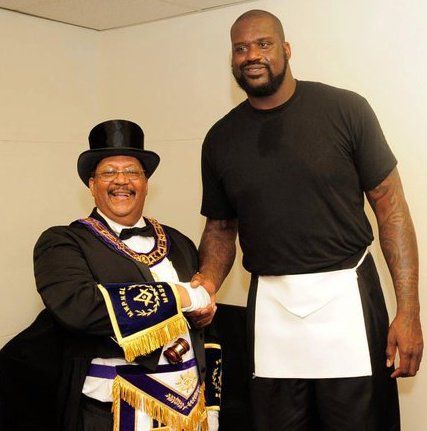 These examples above are just a sampling of the various individuals, who at one point in their lives had became Freemasons. It appears that in striving to live more purposeful lives, there are many modern-day individuals who are still being drawn to Freemasonry.
There are several names you will likely recognize in the following list of famous Freemasons in the modern-day. In sports,  the ex-star Quarterback and current VP of the Denver Broncos,  John Elway is a Freemason and also the world-famous basketball player, Shaq O'Neal.
From the hit TV show Seinfeld the actor we know of as Kramer; Michael Richards is a 33° Degree Freemason, and from the big screen Academy Award-winning actor Richard Dreyfuss was made a Master Mason on site in the jurisdiction of the Grand Lodge of the District of Columbia F&AM. Also, the Reverend Jesse Jackson and American civil rights activist and Baptist minister Jesse Jackson is a Freemason.
Below is a "partial list" of some of the most famous Freemasons in history.
United States Presidents
George Washington
James Monroe
Andrew Jackson
James Polk
James Buchanan
Andrew Johnson
James Garfield
William McKinley
Theodore Roosevelt
William Howard Taft
Warren G. Harding
Franklin D. Roosevelt
Harry S. Truman
Gerald R. Ford
Leaders and Explorers in America
Edwin (Buzz) Aldrin – the American astronaut to step on the moon in 1969
Aaron Burr – served in the Continental Army in the Revolutionary War, was later stripped of his Freemasonry membership for conduct unbecoming a Freemason
Walter P. Chrysler
Davey Crockett – a 19th century frontiersman and soldier
Henry Ford
Benjamin Franklin – an inventor and considered one of the Founding Fathers of America
John Hancock – famous Patriot from the American Revolution
Marquis de Lafaette – largely responsible for securing France's aid to colonial America
Lewis and Clark – early American explorers
Charles Lindbergh – American aviator from the early 20th century
Robert R. Livingstone – considered a Founding Father of America
Thurgood Marshall – Associate Justice of the United States Supreme Court
Fredrich Schwatka – Early explorer of Alaska
Booker T. Washington – leader in rights for African-Americans from the late 1800s to early 1900s
International Leaders
Sir Winston Churchill
King Edward VII
King Edward VIII
King George IV
King George VI
King William IV
Science and Medicine
Joseph Bailey – Civil Engineer who also fought in Civil War
Luther Burbank – famous American naturalist
Erasmus Darwin
Edwin L. Drake – pioneer of the American oil industry
Fleming – won the Nobel Prize for his discovery of penicillin
Edward Jenner – discovered the cure for smallpox
Sir Sanford Fleming – inventor and engineer, responsible for developing time zones
Entertainment and Art
Gene Autry – actor of Western genre
Irving Berlin – composer and musician
Harry Houdini – magician and illusionist
Wolfgang Amadeus Mozart – famous composer and musician
Richard Pryor – actor
Jonathan Swift – poet who became Dean of St. Patrick's Cathedral
John Wayne – actor of Western genre of film and television
Oscar Wilde – Irish writer and poet
Mark Twain
Athletes
Ty Cobb – baseball
Charlie Conache – ice hockey
Jack Dempsey – boxing
John Elway – football
Jack Johnson – boxing
James Naismith – founder of basketball
Scottie Pippin – basketball
Sugar Ray Robinson – boxing
Honus Wagner – baseball
Government Officials
Congressman Nelson Aldrich
Senator Birch Bayh
Senator Lloyd Bentsen
Congressman Jennings Bryan
Congressman Henry Clay
Athletes
Shaquille O'Neal – basketball
Arnold Palmer – golfer
Sugar Ray" Robinson
Jack Dempsey
John Elway
Scottie Pippin
Here is a list a famous Freemasons from the United Grand Lodge of England
Monarchs
King George IV (1762 – 1830)
King William IV (1765 – 1837)
King Edward VII (1841 – 1910)
King Edward VIII (1894 – 1972)
King George VI (1895 – 1952)
Statesmen
Edmund Burke (1729 – 1797)
George Canning (1770 – 1827)
Lord Randolph Churchill (1849 – 1895)
Cecil Rhodes (1852 – 1903)
Sir Winston Churchill (1874 – 1965)
Leopold S. Amery (1873 – 1955)
Religion
Geoffrey Fisher, Archbishop of Canterbury (1887 – 1972)
Sir Israel Brodie (1895 – 1979)
Scientists
Sir Joseph Banks (1744 – 1820)
Dr Edward Jenner (1749 – 1823)
Sir Alexander Fleming (1881 – 1955)
Sir Bernard Spilsbury (1877 – 1947)
Explorers
Sir Richard Burton (1821 – 1890)
Capt Robert Falcon Scott, RN (1868 – 1912)
Sir Ernest Shackleton (1874 – 1922)
Charity
Dr T. J. Barnardo (1845 – 1905)
1st Viscount Leverhulme (1851 – 1925)
Sir William "Billy" Butlin (1899 – 1980)
Actors
David Garrick (1717 – 1779)
Edmund Kean (1787 – 1833)
Sir Henry Irving (1838 – 1905 )
Sir Donald Wolfitt (1902 – 1968)
Peter Sellers (1925 – 1980)
Ernest Borgnine (1917 – 2012)
Writers
Alexander Pope (1688 – 1744)
Edward Gibbon (1734 – 1794)
Richard Brinsley Sheridan (1751 – 1816)
Robbie Burns (1759 – 1796)
Sir Walter Scott (1771 – 1832)
Anthony Trollope (1815 – 1882)
Sir William S. Gilbert (1836 – 1911)
Sir Arthur Conan Doyle (1859 – 1930)
Rudyard Kipling (1865 – 1936)
Artists
Sir James Thornhill (1676 – 1734)
William Hogarth (1697 – 1764)
John Zoffany (1733 – 1810)
Sir John Soane (1753 – 1837)
Music
Thomas Arne (1710 – 1778) Rule Britannia
Samuel Wesley (1766 – 1837)
Sir Henry Bishop (1786 – 1855) Home Sweet Home
Sir Arthur Sullivan (1842 – 1900)
Nathaniel Adams Coles ('Nat King Cole') (1919 – 1965)
Entertainers
Sir Harry Lauder (1879 – 1950)
David Nixon (1919 – 1978)
Cyril Fletcher (1913 – 2005)
Geraldo (1904 – 1974)
Nat Jackley (1909 – 1988)
Alfred Marks OBE (1921 – 1996)
Jim Davidson OBE (b:1953)
Edmundo Ros OBE (1910 – 2011)
Cyril Stapleton (1914 – 1974)
Tommy Trinder CBE (1909 – 1989)
Jimmy Wheeler (1910 – 1970)
Oliver Hardy (1892 – 1957)
Roger de Courcey (b:1944)
Harry Houdini (1874 – 1926)
Harry H Corbett OBE (1925 – 1982)
'Bud' Abbott (1895 – 1974)
Sportsmen
Harold Abrahams CBE (1899 – 1978)
'Jackie' Milburn (1924 – 1988)
Sir Malcolm Campbell (1885 – 1948)
Sir Donald Campbell CBE (1921 – 1967)
Sir Leonard 'Len' Hutton (1916 – 1990)
John 'Jock' Stein (1922 – 1985)
Sir Alec Rose (1908 – 1991)
Sir Clive Lloyd CBE, AO (b:1941)
Jim Peters (1918 – 1999)
Sir Arthur Gold (1917 – 2002)
Trevor Simpson
Len Shackleton (1922 – 2000)
Joe Wade (1921 – 2005)
Leslie Compton (1912 – 1984)
Herbert Sutcliffe (1894 – 1978)
Bill Bowes (1908 – 1987)
Sir Thomas Lipton Bt, KCVO 1848 – 1931)
William 'Jack' Dempsey (1895 – 1983)
Arnold Palmer (b: 1929)
Sugar Ray Robinson(1921 – 1989)
Tony Allcock MBE (b: 1955)
Sir 'Alf' Ramsey (1920 – 1999)
Peter Ebdon (b:1970)
Mark Wildman (b: 1936)
"Smokin' Joe" Frazier (1944 – 2011)
Army
General Sir John Moore (1761 – 1809)
Field Marshal The Duke of Wellington KG (1769 – 1852)
Field Marshal The Earl Roberts of Kandahar VC, KG, KP (1832 – 1914)
Field Marshal The Earl Kitchener of Khartoum KG, KP (1850 – 1916)
Field Marshal Sir John French, 1st Earl of Ypres KP (1852 – 1925)
Field Marshal The Earl Haig KT (1861 – 1928)
General Sir Reginald Wingate Bt, GCB, GCVO, GBE, KCMG, DSO, TD (1861 – 1953)
Field Marshal The Viscount Wolseley KP (1883 – 1913)
Field Marshal Sir Claude Auchinleck GCB, GCIE, CSI, DSO, OBE (1884 – 1981)
Field Marshal The Earl Alexander of Tunis KG (1891 – 1969)
William Cody 'Buffalo Bill' (1846 – 1917)
Lieutenant-Colonel 'Paddy' Maine DSO*** (1915 – 1955)
Navy
Admiral Sir Sidney Smith KCB(1764 – 1840)
Admiral The Lord Beresford GCB, GCVO (1841 – 1919)
Admiral of the Fleet The Earl Jellicoe GCB, OM, GCVO, SGM (1859 – 1935)
Royal Air Force
Marshal of the Royal Air Force The Lord Newall GCB, OM, GCMG, CBE, AM (1886 – 1963)
Squadron Leader Henry Melvin "Dinghy" Young DFC* (1915 – 1943)
RESEARCH LINKS:
http://www.dummies.com/how-to/content/famous-freemasons.html

http://www.phoenixmasonry.org/10,000_famous_freemasons/Volume_1_A_to_D.htm
http://www.ugle.org.uk/what-is-masonry/famous-masons/