"For some unforgiven wickedness of my forefathers I am knit to this fiend – for a fiend it surely is. I beg and beseech you to crush it out of human semblance, even if I die for it." – Edward Mordrake AKA Demon Face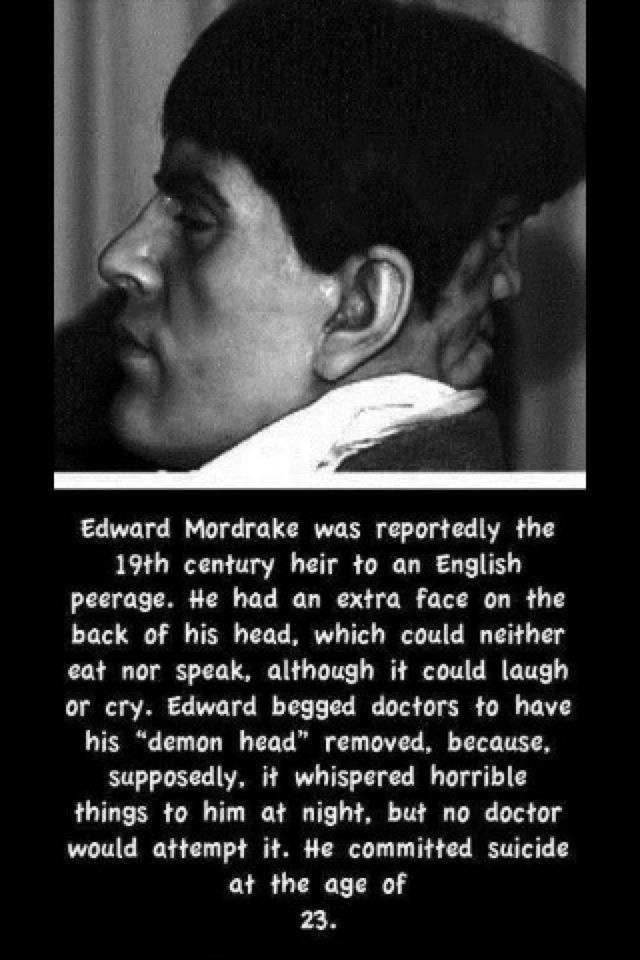 In 1895, The Boston Post published an article titled "The Wonders of Modern Science" that presented the "human freaks" who were cataloged by the British scientists which included a mermaid, lobster boy, and the famous story of a man with two faces, Edward Mordrake, who would become the viral poster boy of modern urban legends.
But this is no legend or myth. It is a real medical condition and as it has been wisely said, facts are often stranger than fiction.
The story of Mordrake with his demon face gained so much recognition in the medical community that two respected physicians documented the facts which they included in the 1896 medical encyclopedia. This entry was later reported by George Milbry Gould in his book, " Anomalies and Curiosities of Medicine."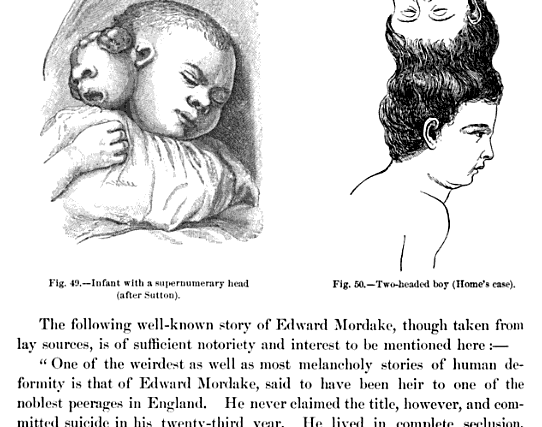 Gould writes; One of the weirdest as well as the most melancholy stories of human deformity is that of Edward Mordake, said to have been heir to one of the noblest peerages in England. He never claimed the title, however, and committed suicide in his twenty-third year.
He lived in complete seclusion, refusing the visits even of the members of his own family. He was a young man of fine attainments, a profound scholar, and a musician of rare ability. His figure was remarkable for its grace, and his face – that is to say, his natural face – was that of an Antinous. But upon the back of his head was another face, that of a beautiful girl, "lovely as a dream, hideous as a devil."
The female face was a mere mask, "occupying only a small portion of the posterior part of the skull, yet exhibiting every sign of intelligence, of a malignant sort, however." It would be seen to smile and sneer while Mordake was weeping. The eyes would follow the movements of the spectator, and the lips "would gibber without ceasing."
No voice was audible, but Mordake avers that he was kept from his rest at night by the hateful whispers of his "devil twin", as he called it, "which never sleeps, but talks to me forever of such things as they only speak of in Hell. No imagination can conceive the dreadful temptations it sets before me.
For some unforgiven wickedness of my forefathers I am knit to this fiend – for a fiend it surely is. I beg and beseech you to crush it out of human semblance, even if I die for it."
Such were the words of the hapless Mordake to Manvers and Treadwell, his physicians. In spite of careful watching, he managed to procure poison, whereof he died, leaving a letter requesting that the "demon face" might be destroyed before his burial, "lest it continues its dreadful whisperings in my grave." At his own request, he was interred in a waste place, without stone or legend to mark his grave."
The two possible medical conditions to cause people to have two heads and or two faces are known as "craniofacial duplication" and "craniopagus parasiticus."
Craniofacial duplication is caused by an abnormal protein expression that can cause the facial features of an embryo to be duplicated on other areas of the head and sometimes the full face is duplicated.
Most likely, Mordrake suffered from what is called "craniopagus parasiticus" which is a rare condition where you have conjoined twins with one not being fully functional and act almost like a real-life parasite to the functional or dominant twin  (hence "parasitic"). It is said to occur in approximately four to six cases in 10,000,000 births.
Lali Singh was born in a small village in India with the condition in 2008.
Rather than believe that this was a curse as in Mordrakes case, her fellow tribe members believed her to be an incarnation of the Hindu goddess Durga, who is traditionally portrayed with multiple limbs. After she had died at only a few months old, the villagers constructed a temple in her honor.
In 2006, researchers reported on the successful separation of craniopagus parasiticus was performed on February 18, 2005 at the Benha Pediatric Hospital in Egypt and in February 2006, the child was still alive and in relatively good health.
The authors operated on a child who was 10 months for 9 hours. Apparently, upon slicing into the main arterial supply to the parasite, bleeding was the most serious problem doctors had faced with the child receiving four liters of blood to save its life.
After separation of the parasitic head, the dura was repaired using artificial dural grafts. Free bone flaps from the parasite were used to cover the osseous defect in the autosite. Skin flaps from the parasite were also used to cover the cranium. (1)
In 2016, researchers reported that a woman who was an ethnic Amhara of Ethiopia gave birth to a baby girl whose head had a parasitic twin protruding from her temporal area.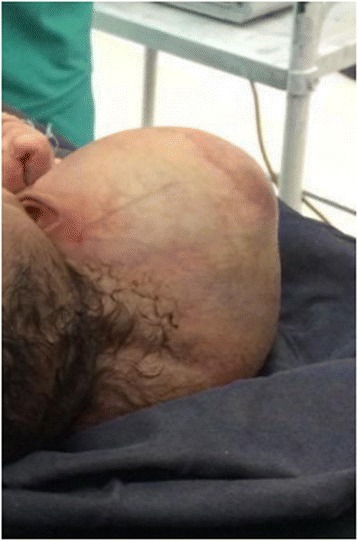 The parasitic twin had two deformed lower limbs, of which one was rudimentary, and long bones of the bilateral lower limbs and some pelvic bone. Dissection of the mass of the parasitic twin's body revealed the intestine but no chest organs or abdominal organs.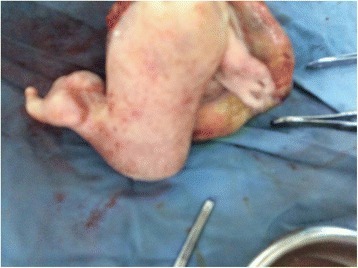 After counseling the mother, a successful operation to remove the parasite was done. Postoperation, the baby was reported to comfortably suckled on the breast of her mother and had no neurological problems. (2)
Edward Mordrake's story went viral again thanks to the TV series American Horror Story which portrays Mordrake has a murderer driven to kill rather than suicide by his evil demon face.
In my previous articles on the theory of Gnostic duality, I explain the ancient belief that there are two separate parts and or aspects to human beings. One element is immortal being made of light (spirit or soul) and the other mortal darkness (flesh or materiality).
This ancient Gnostic science was later developed into the teachings of Christianity which are represented in the Scripture as good and evil, airy and unclean spirits, and angels and demons,
These beliefs were often verified by ancient scientists in the form of what we may call today "birth defects," which is a physical or biochemical abnormality that is present at birth and that may be inherited or the result of environmental influence.
SOURCES:
1. Successful separation of craniopagus parasiticus
2. Craniopagus parasiticus – a parasitic head protruding from temporal area of cranium: a case report.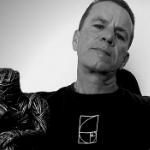 Moe is the founder of GnosticWarrior.com. He is a father, husband, author, martial arts black belt, and an expert in Gnosticism, the occult, and esotericism.