Podcast: Play in new window | Download (Duration: 2:34 — 2.4MB) | Embed
Subscribe: Apple Podcasts | Android | Email | Google Podcasts | Stitcher | RSS
In this episode of the Gnostic Warrior, I interview spiritual traveler, student of Sufi Mysticism, and author, Dr. Stewart Bitkoff. He is the author of several books such as A Commuter's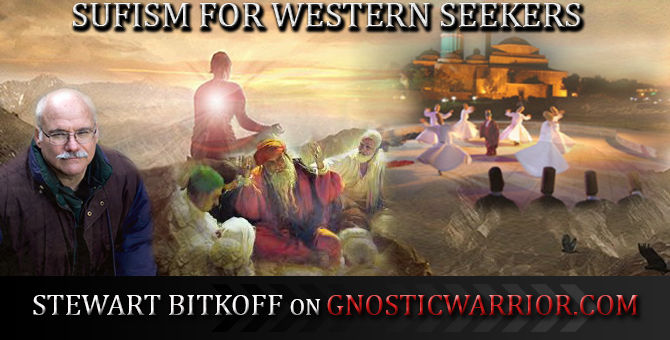 Guide to Enlightenment, Journey of Light Trilogy, The Ferryman's Dream, and Sufism for the Western Seeker.
For many western spiritual seekers, Sufism is often misunderstood and viewed as an Islamic mystical tradition presented through various Sufi orders. Yet this ancient path of spiritual knowing is much broader and older, available through all religions, and independent of Islam and these orders.
In this podcast, Dr. Bitkoff discusses the meaning of Sufism/mysticism, and what it mans to be a true Sufi. He tells us what Sufism says which religion/path is the best, and if it is essential to find a spiritual teacher for your journey. Dr. Bitkoff also tells us why the world is such a mess right now, and how spiritual learning could be useful in the world.
This interview was conducted by Moe on November 6, 2014 from San Diego County, California, with Stewart in Pennsylvania.
Visit Dr. Stewart Bitkoff's website to learn more about his great work, and please follow him on Facebook.
Biography:
Dr. Stewart Bitkoff, spiritual traveler is an advocate of Sufi mysticism and the perennial philosophy. Professionally specializing in the healing applications of therapeutic recreation, psychiatric rehabilitation and mental health treatment; he holds a doctorate in education and served on the faculties of multiple colleges and universities.
Sufism for the Western Seeker, published in 2011, was nominated by 'Foreword Magazine' for Adult Non Fiction Religious Book of Year Book of the Year Award, placing 4th modern western Sufi schools and is available through Amazon or at local bookstore.
A frequent contributor to online venues like: Philadelphia Spirituality Examiner, Wisdom Magazine, New Age Journal, Ezinearticles.com, Witchvox.com, Mystic Living Today, New Age Spirituality, Waking Times and spiritual blogs.