406:4 Mirabeau de la Monarchie Prussienne, vol. V. P. 97.
406:5 Vid. Original Writings, Vol. I. let 27, to Cato.
406:6 See the Original Writings, Vol. I Instructio pro recipientibus, art. B—Let. 2, to Ajax.—Divers letters to Cato.—Last Observation of Philo.
406:7 See hereafter the chapter on Masonry illuminized, Vol. IV.
407:8 p. 407 Weishaupt, in a letter to Zwack, says, "My three first colleagues were Ajax, you, and Merz." (Let. 15, Feb. 1778). This clearly states, that Merz was the Tiberius who was illuminated with Ajax; for it is clear that Zwack was only initiated ten months after the two adepts Ajax and Tiberius. (See Orig. Writ. Vol. I. Sect. IV.)
407:9 Orig. Writ. Vol. I. Sect. IV.—Let. 2, to Philip Strozzi.
407:10 Vol. I, page 23.
---
Next: Code of the Illuminees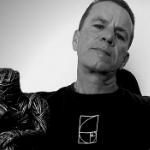 Moe is the founder of GnosticWarrior.com. He is a father, husband, author, martial arts black belt, and an expert in Gnosticism, the occult, and esotericism.