Podcast: Play in new window | Download (Duration: 1:26:28 — 79.2MB) | Embed
Subscribe: Apple Podcasts | Google Podcasts | Spotify | Stitcher | Email | RSS | Subscribe to the
It is not too late for us to reconnect with this ancient knowledge: it is right over our heads, which means that it is also right inside of us. – David Warner Mathisen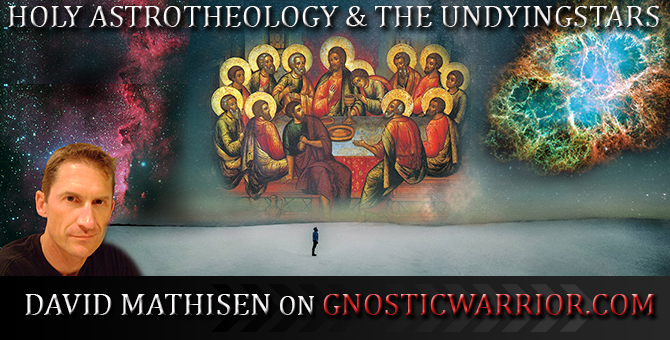 In this new episode of the Gnostic Warrior, I interview astrotheologist, star investigator and author, David Warner Mathisen. David is the author most recently of The Undying Stars: the truth that unites the world's ancient wisdom and the conspiracy to keep it from you; a book exploring the evidence that the stories in the Bible, as well as the sacred myths and scriptures of nearly every other culture on our planet, are built upon a common system of metaphor, and which convey a powerful, liberating and uplifting shamanic worldview that may well represent humanity's shared inheritance from a sophisticated lost civilization.
David says, "Know the stars, change the world: discover the ancient wisdom in the night sky.
The stars, planets, sun and moon are obviously profoundly important: all the world's sacred traditions are built around them.
They teach that every man and woman is a microcosm of the infinite cosmos: we each embody and reflect the endless universe.
They also teach a vision of reality which is simultaneously holographic and shamanic: the material world is a projection of and interpenetrated by a hidden world, and changes in one can effect changes in the other.
It is not too late for us to reconnect with this ancient knowledge: it is right over our heads, which means that it is also right inside of us."
This interview was conducted by Moe on October 3, 2014 from San Diego County, California, with David in California.
Check Out David's 's Websites and Book:
MathisenCorollary.blogspot.com
More About David:
David was fascinated at a young age by Norse mythology, ancient Egypt, and the starry heavens of the night sky. He also had excellent and inspiring English literature teachers throughout his schooling and later majored in English at the US Military Academy at West Point, and was invited back to teach English literature there, getting a graduate degree on the way. He loves all kinds of literature and metaphor and their ability to help us perceive systems of mind control and to transcend them, but especially the ancient mythologies of humanity.
*Most content provided by David