This New World Order news below, reminds me of the hit 2012 movie 'Hunger Games', and the United Nations document known as Agenda 21. In this story that comes to us from Austin,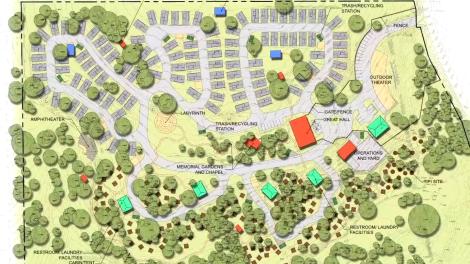 Texas and like the movie, in the ruins of what was once North America, people who once lived in suburbia are now placed in special 'camps.'
However this story is no Hollywood movie. It is the real deal folks.
The non-profit known as Mobile Loaves & Fishes has funded a 27 acre camp city of Austin that will soon house some of the city's chronically homeless. The group raised approximately $7 million to fund the homeless project which will begin development on Wednesday, August 27.
The project is called Community First, and is intended to be a self-sufficient 27 acre community that will utilize small structures such as RV's, mini-homes, a community center, garden and other amenities.
Hell, this place sounds pretty darn good. Plus it will help house the homeless. I'm sure many people will be lining up to move in this huge camp.
Or is this just the first step towards an Agenda 21 type world?
Learn more about Mobile Loaves & Fishes

Mobile Loaves & Fishes is a social outreach ministry that empowers communities into a lifestyle of service with the homeless. Our Mission to provide food and clothing and promote dignity to our homeless brothers and sisters in need is accomplished through our core programs: Community First!, ROADS Micro-Enterprise and our Truck Communities.