Our scholars of the nineteenth century might certainly profit well by Aristotle's example, were they as anxious to imitate him practically as they are to throw his inductive method and materialistic theories at the head of the Platonists. We invite them to collect facts as carefully as he did, instead of denying those they know nothing about.
What we have said in the introductory chapter and elsewhere, of mediums and the tendency of their mediumship, is not based upon conjecture, but upon actual experience and observation. There is scarcely one phase of mediumship, of either kind, that we have not seen exemplified during the past twenty-five years, in various countries. India, Thibet, Borneo, Siam, Egypt, Asia Minor, America (North and South), and other parts of the world, have each displayed to us its peculiar phase of mediumistic phenomena and magical power. Our varied experience has taught us two important truths, viz.: that for the exercise of the latter personal purity and the exercise of a trained and indomitable will-power are indispensable; and that spiritualists can never assure themselves of the genuineness of mediumistic manifestations, unless they occur in the light and under such reasonable test conditions as would make an attempted fraud instantly noticed.
For fear of being misunderstood, we would remark that while, as a rule, physical phenomena are produced by the nature-spirits, of their own
 Page 321
motion and to please their own fancy, still good disembodied human spirits, under exceptional circumstances, such as the aspiration of a pure heart or the occurrence of some favoring emergency, can manifest their presence by any of the phenomena except personal materialization. But it must be a mighty attraction indeed to draw a pure, disembodied spirit from its radiant home into the foul atmosphere from which it escaped upon leaving its earthly body.
Magi and theurgic philosophers objected most severely to the "evocation of souls." "Bring her (the soul) not forth, lest in departing she retain something," says Psellus.
"It becomes you not to behold them before your body is initiated, Since, by always alluring, they seduce the souls of the uninitiated,"  says the same philosopher, in another passage.
They objected to it for several good reasons. 1. "It is extremely difficult to distinguish a good daemon from a bad one," says Iamblichus. 2. If a human soul succeeds in penetrating the density of the earth's atmosphere — always oppressive to her, often hateful — still there is a danger the soul is unable to come into proximity with the material world without that she cannot avoid; "departing, she retains something," that is to say, contaminating her purity, for which she has to suffer more or less after her departure. Therefore, the true theurgist will avoid causing any more suffering to this pure denizen of the higher sphere than is absolutely required by the interests of humanity. It is only the practitioner of black magic who compels the presence, by the powerful incantations of necromancy, of the tainted souls of such as have lived bad lives, and are ready to aid his selfish designs. Of intercourse with the Augoeides, through the mediumistic powers of subjective mediums, we elsewhere speak. The theurgists employed chemicals and mineral substances to chase away evil spirits. Of the latter, a stone called [[Mnizourin]] was one of the most powerful agents.
"When you shall see a terrestrial demon approaching, Exclaim, and sacrifice the stone Mnizurin," exclaims a Zoroastrian oracle (Psel., 40).
 And now, to descend from the eminence of theurgico-magian poetry to the "unconscious" magic of our present century, and the prose of a modern kabalist, we will review it in the following:
In Dr. Morin's Journal de Magnetisme, published a few years since in,
Page 322
 Paris, at a time when the "table-turning" was raging in France, a curious letter was published.
"Believe me, sir," wrote the anonymous correspondent, "that there are no spirits, no ghosts, no angels, no demons enclosed in a table; but, all of these can be found there, nevertheless, for that depends on our own wills and our imaginations. . . . This MENSAbulism  is an ancient phenomenon . . . misunderstood by us moderns, but natural, for all that, and which pertains to physics and psychology; unfortunately, it had to remain incomprehensible until the discovery of electricity and heliography, as, to explain a fact of spiritual nature, we are obliged to base ourselves on a corresponding fact of a material order. . . .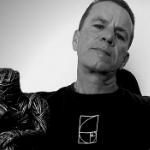 Moe is the founder of GnosticWarrior.com. He is a father, husband, author, martial arts black belt, and an expert in Gnosticism, the occult, and esotericism.