Podcast: Play in new window | Download (Duration: 2:34 — 2.4MB) | Embed
Subscribe: Apple Podcasts | Android | Email | Google Play | Stitcher | RSS | More
Welcome to the Gnostic Warrior Radio Show and Podcast. In this episode, I interview author, publisher, artist and Reverend of the Church of Satan, Corvis Nocturnum. He is a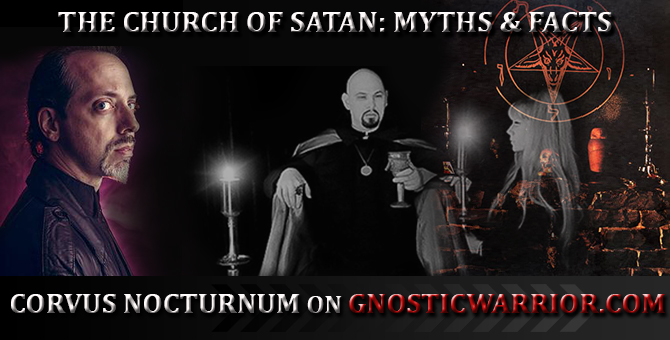 spokesperson for the Church of Satan, detailing the difference between Satanism as a religion, and debunking the myth of Satanists as Devil worshippers. Corvis has also written over a dozen books on popular culture, and is best known for his book entitled 'Embracing the Darkness; Understanding Dark Subcultures'.
In this podcast, Corvis explains the core tenants and philosophies of the Church of Satan. He helps dispel some of the myths surrounding the Church and he states some of the facts. Corvis also explains the difference between the left hand path and the right hand path.
The Church of Satan was founded on April 30, 1966 c.e. by Anton Szandor LaVey, we are the first above-ground organization in history openly dedicated to the acceptance of Man's true nature—that of a carnal beast, living in a cosmos that is indifferent to our existence. To us, Satan is the symbol that best suits the nature of we who are carnal by birth—people who feel no battles raging between our thoughts and feelings, we who do not embrace the concept of a soul imprisoned in a body. He represents pride, liberty, and individualism—qualities often defined as Evil by those who worship external deities, who feel there is a war between their minds and emotions.(Source: Church of Satan)
This interview was conducted by Moe on August 21, 2014 from San Diego County, California, with Corvus in Fort Wayne, Indiana.
Corvis Nocturnum's website is CorvisNocturnum.com
Occult, vampire and paranormal researcher Eric R. Vernor, best known to his fans under the pen name Corvis Nocturnum, has been an invited speaker at the 2006 World Religions Seminar at Indiana-Purdue University Fort Wayne, and the guest panelist for the 2010 Kheperu Open House where he enlightened the convention attendees the misconceptions on Satanism. He has also been a consultant for 2010s A& E's Paranormal States episode Satan's Soldier. Guest panelist at Dragon Con 2011 in Atlanta, GA alongside paranormal and vampire authors such as Michelle Belanger and Rosemary Ellen Guiley, Corvis was on on The BET Channels' episode The Lexi Show on The Word Network, as a spokesperson for the Church of Satan detailing the difference between Satanism as a religion and debunking the myth of Satanists as Devil worshippers.
The author has had appearances in magazines such as the October 2009 Penthouse Magazine article interview on sex and Satanism, Philadelphia Weekly as an artist at Germ Gallery (2009), and he occasionally is a writer for Dark Resurrected Magazine. The author is an artist who lectures on Goth culture, vampires and Satanism's true nature at conventions and universities. He is the founder and publisher of Dark Moon Press. Corvis Nocturnum/Eric R. Vernor has dual associates' degrees in Business Management and Criminal Justice.
Corvis Nocturnum's Books:
Embracing the Darkness; Understanding Dark Subcultures, (Dark Moon Press, 2005)
A Mirror Darkly, (Dark Moon Press, 2006)
Promethean Flame, (Dark Moon Press, 2008)
Allure of the Vampire; Our Sexual Attraction to the Undead, (Dark Moon Press, 2009)
Cemetery Gates; Death and Mourning through the Ages, (Schiffer Publishing, 2011)
I, Lucifer: Exploring the Archetype and Origins of the Devil, (Schiffer Publishing, 2011)
Satan's Minions: Fallen Angels, Demons and other dark creatures, (Dark Moon Press, 2011)
Haunted Asylums, (Schiffer Publishing, 2012)
Most Haunted: Scariest Places on Earth, (Dark Moon Press, 2012)