I. As it is below, so it is above; as on earth, so in the sky.
II. There are two states of being: one is mortal; the other is immortal
III. That which is mortal is dissolvable, and dissolvable bodies pass away like a midst in the morning.
IV. An immortal body is an essence which is eternal and incorruptible.
V.  But the twain, the mortal and the immortal, cannot exist together forever, but each returneth to the place from whence it came. (more…)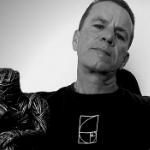 Moe is the founder of GnosticWarrior.com. A website dedicated to both the ancient and modern teachings of Gnosticism.