In my last article, The American Indians and Phoenician Hebrews: Masonic Square and Compass, I had shared with you an
interesting artifact that seems to tie the Indians with the Phoenicians (Sea Peoples and Hebrews), and possibly the Freemasons.
As I had mentioned in the article, the Indian Masonic Square and Compass was made of shells and found in Coolidge, Arizona at a place called the Casa Grande Ruins National Monument (O'odham: Siwañ Wa'a Ki:), just northeast of the city of Casa Grande, preserves a group of Ancient Pueblo Peoples Hohokam structures of the Pueblo III and Pueblo IV Eras.
Another ancient American Indian artifact was found here that I would like to share with you that helps support my American Indian and Hebrew connections that I have been making. It is an ancient massive stone that contains text in the form of Old Hebrew, and it also has an abbreviated version of the Ten Commandments written upon it. (more…)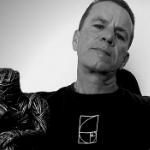 Moe is the founder of GnosticWarrior.com. A website dedicated to both the ancient and modern teachings of Gnosticism.