"Your blood contains DNA, which is like a history book." Spencer Wells (DNA Geneticist)
Many ancient cultures had said that our blood was the seat of our soul. The giver of life. I would like to go one step further by claiming that our blood is where we obtain true Gnosis, wisdom and by its mastery, evolution of the soul.
A red reservoir of our family's history that some of us are able to tap into in order to discover the secrets of our pasts. When a person successfully connects with this Gnosis, they have become enlightened and awakened to who they truly are.
Gnosis (Greek for knowledge) in its simplest form is the intuitive spiritual knowledge that comes with knowing thyself, and thyworld. A type of computer code encoded within each of our own DNA that contains unique "genetic knowledge" or "intuitive insight" that each of us are born with. A computer hard drive in our blood that we can use to help us think, reason, intuit and form knowledge with the help of our very own DNA. (more…)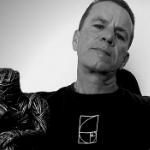 Moe is the founder of GnosticWarrior.com. A website dedicated to both the ancient and modern teachings of Gnosticism.