"Most Westerners have a day consisting of eight hours of work, eight of play, and eight of sleep.
The eight hours of sleep, that third of a day of darkness, is sharply distinguished in our minds from the two-thirds of a day of waking and light.
We try not to think of that time of darkness and dreams. We pretend that we don't dream, or if we do, that the dreams are meaningless.
Yet nightmares leave us all shaken and afraid. (more…)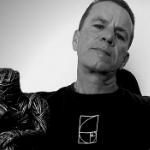 Moe is the founder of GnosticWarrior.com. A website dedicated to both the ancient and modern teachings of Gnosticism.