Moe Bedard Quote: What the Catholic Church has done with Johannes Scotus Eriugena, they have done to countless Brothers many times in the past. Just as they had committed the sin of burning the Knights Templar at the stake, this same violence they will commit on ANYBODY or ANY TEACHINGS they do not like or have deemed mind control unfit for the Catholic Church. Once you become their target, they will attempt everything in their multi-billion dollar power to destroy, burn, kill,  murder, rape and pillage these bodies, teachings, contracts and even these divine souls for their own good. This age old Catholic policy is as easy to verify over the last two thousand years as a simple Catholic fact. Just like the fact that their home base is in Vatican City with a total population of 911 in Rome and on seven hills. It just is. They cut off heads, crucify and burn people or things they do not like or the deem a threat and yes, even St John.

Never would I have thought in a million years that I would be where I was at today in the research into my long lost ancestors. The voice in my head that has led me down the path of illumination to the water of truth has been rite all along. The scorpion on the wall. The galloping hooves of the pale horse whose rider is the Pendragon. I AM Saint Bede, I AM Saint John who wrote the Book of Revelations and we have the rite of the Scorpion.
All of these vision quests that I have had over the last couple years have led me the truth of who I AM and why I AM here. This blog and my articles like this one here are my eye witness testimony to these Apocalyptic Revelations. You my Brothers are my jury. (more…)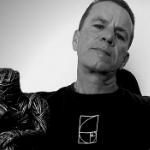 Moe is the founder of GnosticWarrior.com. A website dedicated to both the ancient and modern teachings of Gnosticism.